Slovakia's tradition of winemaking dates back centuries. As soon as the Romans reached the Danube region they began to grow wine here. For the small towns that developed along the Small Carpathians wine was an important source of income during the Middle Ages. Slovak wine is still something of an unknown to many Europeans. Few realize, for instance, that part of the famous Tokay region lies in Slovakia and that the J. E. Hubert Company was the first outside France to introduce the classical method of fermentation of sparkling wine in bottles. Come and learn the secrets of Slovak wine – and how to say the Slovak wine drinkers' toast: 'Na zdravie!' ('To health!').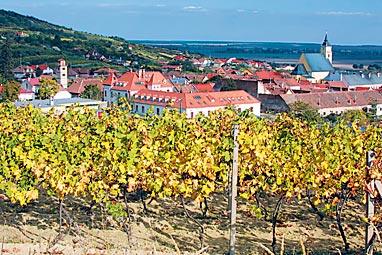 This preliminary schedule for a week-long tour of Slovakia combines a stay in the Slovak capital, Bratislava, with programme elements focused on cultural history and winemaking in Slovakia. The second part of the trip provides an opportunity to explore the most beautiful areas of the Tatra Mountains and to enjoy the landscape of northern (potato-producing, rather than winemaking…) Slovakia. The programme can be amended or shortened to cover just the winemaking area around Bratislava (Days 1-4).
Day 1
Flight to Bratislava/Vienna Airport, transfer to hotel, accommodation, Brayislava sightseeing including the Museum of Viticulture, welcome dinner at a typical Bratislava restaurant, with excellent wine, of course…
Day 2
This day is dedicated to the Small Carpathian region, a hinterland of Bratislava famous for its wine production. The day includes an excursion to Modra to witness pottery manufacture and to Pezinok, the Slovak capital of wine. We will also visit the famous Renaissance fortress of Cerveny Kamen. Lunch at a typical local restaurant.
Day 3
Visit to Chateau Topolcianky, the former summer residence of the presidents of Czechoslovakia, and famous for its wines. Stop in Nitra, the ancient cradle of Christian tradition in Slovakia and centre of the Nitra wine region. Lunch in the town. Afternoon visit to the local wine specialists at Tajna.
Day 4
Morning departure from Bratislava to Muzla pri Sturove and Chateau Bela, a relatively new but acclaimed producer of the highest quality wines in Slovakia. Then continue to Velky Krtis and Domin&Kusicky, a producer of excellent natural and bio wines from the south-central Slovak region. Late afternoon arrival in Kosice.
Day 5
Spend the morning relaxing in the beautifully restored Old Town district of Kosice, which boasts the easternmost Gothic cathedral in Europe. Afternoon excursion to the Tokay winemaking region, and the cellars of the Ostrozovic winery. Tokay is the home of some very famous wines, once drunk by kings as medicinal cures. Tokay wines are popularly associated with Hungary, but Slovakia's Tokay winemakers are recognized by the EU as part of this celebrated wine region.
Day 6
Morning departure from Kosice. Stopover in Presov, a charming town with its own wine museum. Then continue to the Spis Region, one of the artistic treasuries of Slovakia: visit the world's highest wooden Gothic altar, by Master Paul, in Levoca; and the UNESCO-listed monuments around Spis Castle (Spisska Kapitula, Zehra, Spisske Podhradie). Dinner at a Koliba-style restaurant will be accompanied by live Gypsy music.
Day 7
After a morning check-out from the hotel and a short coach ride, take the funicular railway to Hrebienok, with its breathtaking views of Lomnicky Peak (2633 m) and then descend to the Valley of Cold Creek (Studeny potok) and its magnificent waterfalls. After returning from this easy walk in the countryside, depart the High Tatras westwards along the Vah River Valley to Trencín, once the site of a Roman winter camp. This city, the northernmost site with evidence of ancient Roman presence in the Danube Region, is marked by a surviving Latin inscription on the castle cliff. After enjoying some free time, continue to Bratislava, which features a compact but charming Old Town with many excellent bars and cafes.
Day 8
Morning transfer to Bratislava/Vienna Airport, homebound flight.
Note: This is a tailor-made tour. The Slovakia Wine Tour can be organised for a closed group of 6 or more participants on any given date (some date exceptions may apply). To receive a complete offer, please send us your preferences and we will send you a price quote within 2 working days.
Click here to request a proposal
Want to try Slovak Wine, before you come with your group? Order your Slovak wine here.
Ak si želáte zorganizovať online ochutnávku vína, kontaktujte nás!
Chcete spoznať víno zblízka? Navštívte ZaVinom.sk – ochutnávky vína pre každého.