Slovakia Steam and Railways Tour
Slovakia Steam and Railways Tour is a preliminary schedule for a trip designed for lovers of steam locomotives and railway history. It includes excursions to some of the country's principal attractions, such as the railway depots in Bratislava and Vrutky, and two main museums with railway-related exhibits in Bratislava and Nitra. Slovakia is predominantly a hilly country and some scenic railways routes have been included e.g. the Cervena Skala – Margecany route with tunnels and bridges through the Slovak Ore Mountains, and the unique Black Hron forest railway.
The High Tatras National Park, the Spis historical region and the national capital, Bratislava, are among the most important and attractive tourist regions in Slovakia. We have therefore included all of them in this specialized itinerary.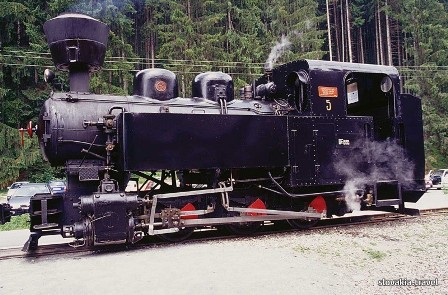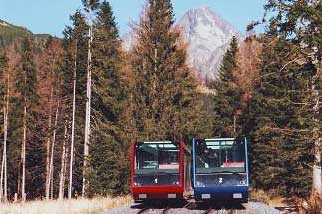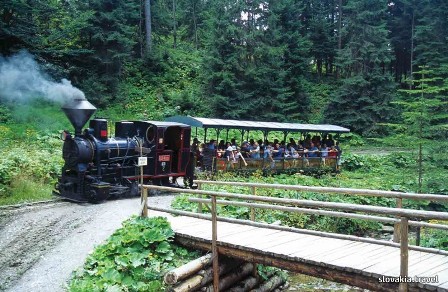 Day 1
Arrival at Bratislava/Vienna Airport, transfer and hotel check-in, afternoon walking tour of Bratislava's Old Town, including the neo-Classical Primate's Palace (where the Peace of Pressburg was signed in 1805), historical Town Hall, and Main Square with craft market. Welcome dinner in a typical local restaurant.
Day 2
Morning ride on an historical Bratislava tram. An excursion to the capital's Museum of Transportation will provide an insight into its rare collections of cars, locomotives and Slovak railway heritage items. Afternoon trip along the Small Carpathian Wine Trail, including an excursion to witness pottery-making in Modra, a visit to the Renaissance fortress of Cerveny Kamen and a chance to go wine tasting.
Option: A ride on an historical steam train can be arranged as part of the afternoon trip.
Day 3
After a morning departure from Bratislava, visit Nitra, a seat of the Slovak Agricultural Museum, which maintains a unique steam railway and several steam tractors. After lunch continue to Banska Bystrica. This former mining centre features a magnificently restored town square, a Gothic parish church, and the Slovak National Uprising Memorial Museum. Continue to the resort of Tale in the Low Tatras.
Day 4
Steam railway trip into the heart of the Carpathians: morning departure to Cierny Balog, famous for its Black Hron steam railway, once used to transport timber but today one of the top tourist attractions in Slovakia. After a spectacular railway ride through the forests enjoy an outdoor picnic and experience a display of authentic folklore.
Day 5
Morning train trip on the exciting mountain railway route Cervena Skala – Margecany. In the afternoon visit the UNESCO-listed monuments in and around Spis Castle, including Spisska Kapitula (a fortified bishops' residence) and majestic Spis Castle itself, one of Europe's largest castle compounds. Continue to Levoca, with its spectacular wooden Gothic altar carved by Master Paul. Enjoy some free time in this medieval town. Late afternoon arrival in the High Tatras National Park.
Day 6
This day is dedicated to the High Tatras National Park. Morning walk to the Cold Creek Waterfalls, including a funicular ride to Hrebienok. In the afternoon take a ride in a historical Tatras railway carriage to Strbske Pleso, which is also a terminal of the local cog railway. Explore the beauty of the town's mountain lake. Dinner at a Koliba-style restaurant will be accompanied by live musical entertainment.
Day 7
Morning departure westwards along the Vah River valley and past the Liptovska Mara dam. Today's highlight will be a visit to the railway depot in Vrutky and its collection of historical locomotives. Continue to Bratislava by IC train from Zilina. Farewell dinner in Bratislava in a typical local restaurant.
Day 8
Morning transfer to Bratislava/Vienna Airport, homebound flight
Note: This is a tailor-made tour. The Slovakia Steam and Railways Tour can be organised for a closed group of 6 or more participants on any given date (some date exceptions may apply). To receive a complete offer, please send us your preferences and we will send you a price quote within 2 working days.