Tasting Tour: Explore Slovakia With a Wine Glass in Your Hand
If there's one thing you shouldn't miss while you are in Slovakia, it's the wine. But don't worry: you'll get plenty of opportunity! The reason you may not have heard about Slovak wine is that Slovaks are (rightly) proud of it – and most of it is consumed domestically, leaving little for export.

On virtually every high street, and even among the concrete tower-blocks of Slovakia's larger towns and cities, you'll find a vinotéka, or wine shop, where the locals go to taste their favourite labels, and fill their own demijohns direct from the barrel.
As a visitor, getting to know Slovakia's wines is the perfect chance to travel to the lovely areas where wine is made, visit the vineyards and wineries that have become such a vibrant part of the Slovak economy in the last 30 years, and of course to discover your own favourites by tasting the local vintages.
Bratislava, Slovakia's capital city, is a good place to start. It's a town built on wine-trading, with ancient cellars dating back to the Austro-Hungarian period. Even today, you can see vineyards in the city: the nearby Small Carpathians wine region, Slovakia's largest, stretches along the hills north of the city, encompassing numerous picturesque wine towns like Modra and Pezinok, not to mention castles like Red Rock fortress.
In this area you'll find a wide range of cellar door tasting opportunities, from the charmingly rustic to the ultra-modern – Enjoy Slovakia DMC will be happy to guide you. Many of these vineyards are family-run operations, with skills preserved through the years of collectivization, and revived after 1989. Their proprietors are proud to present their products, including award-winning white wines.
There are five other wine regions spread across Slovakia. Not far from Bratislava is Château Topoľčianky, the former summer residence of the presidents of Czechoslovakia, and home to a famous wine label. To the south is the valley of the Danube, and the magnificently restored Chateau Bela hotel and vineyard.
Further east is the famous Tokay region, source of fine wines to royalty for centuries. Shared with Hungary, this region is famous for its deliciously heavy dessert wines, made from grapes cultured with the benign mold known as noble rot. As a bonus, visit the beautifully restored old town of nearby Košice, Slovakia's second city, where you will find the easternmost Gothic cathedral in Europe.
And returning to Bratislava, it's time for something unusual: blackcurrant wine, or ribezlák, made in the historic village of Devín, west of the capital. With its dramatic castle ruins and river-front location, this is a great place to round off your tour.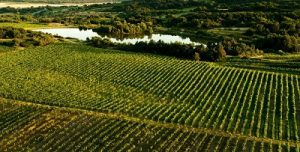 Even during the current era of Covid lockdowns, you can still experience the taste of the vineyards through our virtual events. Online tasting of Slovak wines has become a very popular activity during the pandemic.
As we say in Slovakia: Na zdravie! (Cheers!)