Choose Your 5 Best Places to Visit in Slovakia
Slovakia is one of Europe's most spectacular countries – boasting mountains, rivers, beautifully preserved medieval cities, castle ruins and stunning national parks. The food and drink are pretty impressive too! Choose your favorite place from our suggestions – and explore the secrets of Slovakia…
The Capital: Bratislava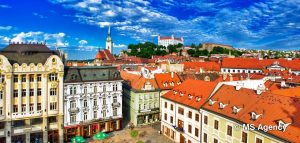 Bratislava's superbly restored medieval old town is perfect for exploring: pedestrian-only, and with a wealth of charming street cafes, restaurants and bars to explore and enjoy. Its main buildings, Bratislava Castle and St Martin's Cathedral, are a legacy of the city's long and rich history: the kings and queens of Hungary were crowned here for more than 200 years. The famous Blue Church is a beautiful example of the local Secession style, while the distinctive SNP Bridge over the Danube and the upside-down pyramid of the Slovak Radio building are stark memorials to Bratislava's more recent past. Enjoy Slovakia DMC has a range of tours and activities to show you the best that Bratislava has to offer.
Low and High Tatras National Parks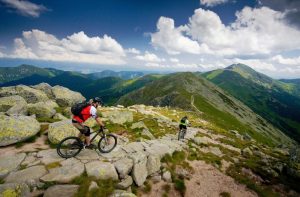 Slovakia is a country blessed with many hills and mountains, but the highest are to be found in the north of the country. Both the High Tatras and Low Tatras offer world-class skiing and winter sports in season, and superb hiking year-round. There is even a cable car to get you the summit of the second highest peak! From special venues to unique events, a few days in the mountains will clear your head and lift your spirits.
UNESCO-Listed Towns: Bardejov and Banská Štiavnica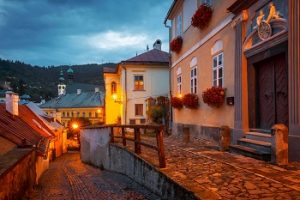 Slovakia is studded with historical gems – demonstrated by its numerous UNESCO World Heritage-listed sites. Among these are two unique medieval urban environments. Banská Štiavnica, in central Slovakia, which is built on seams of gold and silver, was once one of the richest mining centers in Europe. Now it is a charming and well-preserved hillside town that oozes character and charm. Further east, Bardejov was a wealthy medieval trading hub, with a town square to prove it. Explore the stunning Renaissance town hall, St. Giles' church and the town's fortifications.
Bojnice Castle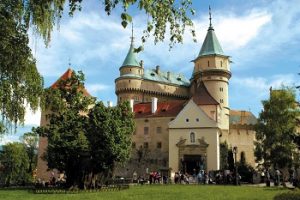 Built by the art lover and traveler Count Janos Palffy, Bojnice Castle was inspired by the chateaux of the Loire Valley. A dramatic Gothic presence set among the green hills of western Slovakia, the castle is filled with Palffy's extensive art and antiquities collection, not to mention the renowned Bojnice altar. Enhance the romantic experience of your visit with a gala dinner or night-time tour. Bojnice is within easy reach of Bratislava.
Historic Spiš Region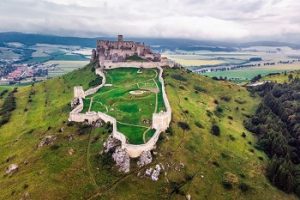 The brooding ruins of Spiš Castle, once the biggest in central Europe, dominate the beautiful and historic landscape of the Spiš region. After you have explored this atmospheric site, visit the nearby fortified religious settlement of Spišská Kapitula (Spiš Canonry), home to the bishops of Spiš, which includes the Cathedral of St. Martin. The castle, cathedral and the early Gothic twin-nave church in neighboring Žehra have together been listed by UNESCO as a World Heritage Site. Enjoy Slovakia DMC can show you the best of this amazing region.
Source of pictures (unless otherwise specified on the picture): Slovakia.travel